Back to Home Page Back to Reference Back to Links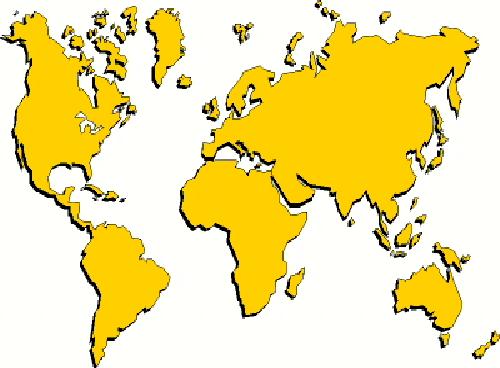 Just Click on the part of the world you are from to jump to a list of local clubs and suppliers listed by country.
On our list you'll find links to local places you can order parts, books or find local robotics clubs in your country.
You can help other robot builders around the globe by e-mailing me and adding to this list.
The Universal Currency Converter™ For international buyers
The United Kingdom:
RS Components - sells products such as books, cable and connectors, electrical goods, electronics, health and safety items, office equipment, power supplies, test and measurement equipment, and tools.

EEC Computer Bookshop - supplies discount computer titles to customers in the UK and Europe.
Bull Electrical - all sorts of electrical goodies

Computer Manuals Ltd. - supplier of computer books.
Milford Instruments - all sorts of robotic gadgets!
Robot-Electronics.co.uk - lots of good robot stuff
Canada and the United States:
See our Reference Area for US listing
HVW Technologies


Mexico:
Miller and Sanchez - manufactures membrane switches and printed circuit boards.


Anacom

Compomil Componentes Eletrônicos Ltd - eletronic components dealer offering transistors, integrated circuits, and diodes.

Emicol Eletro Eletronica Ltda. - manufacturer of electrical and electronic components for home appliances, such as: switches, thermostats, pressure switches, rotary switches, water valves, ignition units, timers, etc.
http://www.elo.utfsm.cl/~robotica/ - local robotic club "Centro de Robotica" of Universidad Técnica Federico Santa Maria, Valparaíso, Chile


Cuspide Libros - libros tecnicos, scientificos, de literatura, educacion, psicologia, y mas. In Spanish
Joker Robotics - a dealer of the Rug Warriors and other robotic items in Germany
Schlueter - photoelectric sensors, inductive and capacitive sensors, surface and colour sensors
Seiko Instruments GmbH Homepage
Groothengel Boeken b.v. - general, literary, and scientific bookstore
Switzerland:
Computer Controls
Czech Republic:
Electronic components
Electronic components and radiocommunications wholesaler
Omega Electronics Co., Ltd. - Supplier for full range of passive components in Europe

Pandora Book Service - searchable online store offering a variety of titles in Turkish
France:
List of Electronic Suppliers
Italy:
List of Electronic Suppliers
Finland:
sfnet.harrastus.elektroniikka FAQ

Linet Oy - offering a local control network chipset for embedded systems, automotive, data acquisition, or building automation applications.
New Zealand and Australia:
The Australian ONline Shopping Directory for Electronics online
Robot-OZ - Aus
Australian Electronics Webring

Dick Smith Electronics - Australia's leading consumer and hobby electronics retailer.

eBay Austrialia
MicroZed - Aus
RTN - Aus
Trade-Tech Products Ltd. - New Zealand
Philippines:
National Book Store - nationwide chain of bookstores. Site features capsule reviews of popular selling books, a store directory, and more

Pulse Technology - representing manufacturers of semiconductor and electronic releated products and services in the Philippines.


South Korea:
Keymen Electronic, Co. - supplier of all kinds of electronic components, especially hard to find parts.
MicroRobot.com - They make some great products for you robot and ship internationally!
http://isp.koreasme.com - supplier of LED components and some sensors
Singapore:
Electrical Electronics - retail electronic components
Taiwan:
Electronics component listings

Science links
China:
Nanfu Battery Co., Ltd. - range of alkaline, super heavy duty, lithium photo, and rechargeable batteries.

Links for all sorts of electronics components in China
Mind Research (HK) Ltd. - they sell Basic Stamp products, e-mail mindrehk@iohk.com for more details
Malaysia:
Microbee Robotics Tech.
India:
Aplab - manufacturer of multimeters, oscilloscopes, smps, ups,and more

Indian Electronics Industry - listing of companies with their webpages and all details about them.
Israel:
Odem Electronics Technologies Ltd. - electronics components distributor in Israel.

Israel Association of Electronics Industries - overview of Israel Electronics industries - statistics, profiles, activities. General information on the environment in Israel for hightech development.
Boran Technologies - Phone Number #972-3-927-4747
Dixel Electronics, Ltd. - distributor of electronics components, industrial and military application connectors
The Middle East:
http://www.saudi-pages.com/
Russia:
Russian Society of Scanning Probe Microscopy and Nanotechnology - active information interchange, research, and practical applications.
Book Lotok - sells computer books. In Russian.
Books of Russia - online Russian bookstore. In Russian
South Africa:
Van Schaik Internet Bookstore - South African bookseller